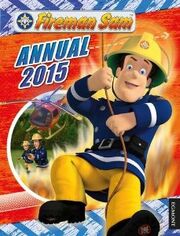 The
Fireman Sam
Annuals
are an on-going series of hardback books which are usually released every year for Christmas time. Each book contains a vast selection of stories, activities, information on the show's characters and much, much more.
The original annuals were created by Marvel Comics; these days they are published by Egmont.
After the 2002 edition was released in 2001, Egmont discontinued the Fireman Sam annuals after seven years of no more new episodes. However in the 2006, a year after the series returned to the English television screen, Egmont brought back the Fireman Sam annuals, starting with the 2007 edition.
Covers Gallery