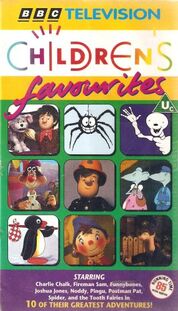 BBC Television Children's Favourites is a VHS released in 1993 by BBC.
Description
At last, all your friends from Children's Television Together on one video in 10 Great Adventures! Let's see What they're all doing...
Episodes
Noddy: Noddy and the Broken Bicycle
Pingu: Pingu and Pinga at Home
Funnybones: The Pet Shop
Postman Pat: Postman Pat's Finding Day
Spider: Just as Spider
Joshua Jones: Haywire
Tales of the Toothfairies: The Stolen Present
Fireman Sam: Bentley the Robot
Pingu: Pingu Goes Fishing
Charlie Chalk: Arnold's Night Out
Gallery
Ad blocker interference detected!
Wikia is a free-to-use site that makes money from advertising. We have a modified experience for viewers using ad blockers

Wikia is not accessible if you've made further modifications. Remove the custom ad blocker rule(s) and the page will load as expected.