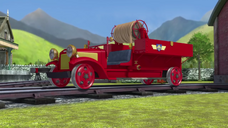 Bessie 
is a heritage fire engine that runs on rails.
Description
She used to be driven by Station Officer Steele in his old days and first appeared in the eighth season episode, "Bessie to the Rescue", when Sam and Station Officer Steele were doing an inspection of the train station.
In Sky Lanterns, Bessie was given a upgrade which included the ability to change between it's water tank and sticky foam.
Appearances
Episodes Sam drove Bessie
Episodes Penny drove Bessie
Episodes Station Officer Steele drove Bessie
Trivia
Gallery
Ad blocker interference detected!
Wikia is a free-to-use site that makes money from advertising. We have a modified experience for viewers using ad blockers

Wikia is not accessible if you've made further modifications. Remove the custom ad blocker rule(s) and the page will load as expected.