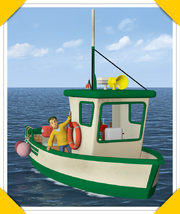 Charlie's Fishing Boat is his pride and joy of the sea, and of course, his livelihood, Appearing since Series 6.
Description
Keeping the Wholefish café well stocked of fresh fish everyday by fishing on his boat, far out at sea Charlie sometimes daydreams on it and usually gets him into trouble because of his daydreaming or with mechanical problems. Luckily for him, Penny is on hand with Neptune to come and save him just in case.
In the cabin there is the steering wheel and the radio, Charlie also keeps a fire extinguisher on board just in case of a fire and a container of fuel.
Gallery
Ad blocker interference detected!
Wikia is a free-to-use site that makes money from advertising. We have a modified experience for viewers using ad blockers

Wikia is not accessible if you've made further modifications. Remove the custom ad blocker rule(s) and the page will load as expected.