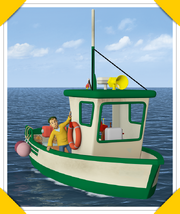 Charlie's fishing boat is his pride and joy of the sea, and of course, his livelihood, appearing since Series 6.
Description
Keeping the Wholefish café well stocked of fresh fish everyday by fishing on his boat, far out at sea Charlie sometimes daydreams on it and usually gets him into trouble because of his daydreaming or with mechanical problems. Luckily for him, Penny is on hand with Neptune to come and save him just in case.
In the cabin there is the steering wheel and the radio, Charlie also keeps a fire extinguisher on board just in case of a fire and a container of fuel.
Trivia
The fishing boat's horn sound is exactly the same one used for Wilson in Chuggington.
Gallery