Fiery Finale is the twenty-second episode of the fifth season.
Summary
There's a talent show in Pontypandy and Norman Price is searching for an act. But whatever he tries, Trevor Evans "pours cold water" on it. Finally when Norman tries to play Elvis' guitar, he is asked to leave the stage. Norman's eyes alight on a comic featuring, "Lasso Kid" and he decides to delight the crowd with his roping skills. However, Norman's rope tricks soon lead to a fire.
Characters
Trivia
This episode was a bonus episode on the US Thomas and Friends DVD, Engines and Escapades.
Home Media Releases
US
Gallery
Video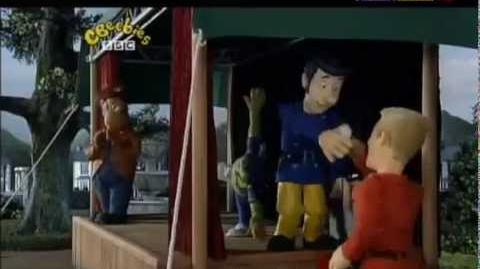 Ad blocker interference detected!
Wikia is a free-to-use site that makes money from advertising. We have a modified experience for viewers using ad blockers

Wikia is not accessible if you've made further modifications. Remove the custom ad blocker rule(s) and the page will load as expected.