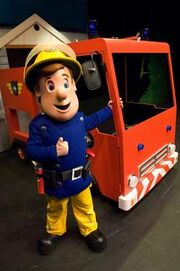 Fireman Sam Live On Stage"
Is a Stage show/DVD film that was toured in theatres from 2006-2007 to mark the 20th Anniversary of Fireman Sam.
Plot
Pontypandy is having a Fun Day and everybody is taking part. Dilys Price is making a Coconut Shy, Penny Morris is giving a Keep Fit Class, Elvis Cridlington is barbecuing sausages and making ice cream and Fireman Sam preparing his latest invention. Norman and Mandy are hanging around to find Woolly and also wonder what Tom Thomas is preparing for the Fun Day.
Characters
Trivia
Vehicles
Cast (Costumes)
David Sullivan as Fireman Sam.
Andy Medhurst as Elvis and Tom.
Dinah Lees as Norman Price.
Claire Finley as Mandy Flood.
Adele Scott as Penny and Dilys.
Voice Cast
Songs
Hello! i'm Fireman Sam
Here comes Fireman Sam!
Scrub!, Wash! and Polish!
Keeping Fit is Fun!
10 Fat sausages
Woobling, Woobling
Fun Day!
10 Little Ducks
Hooray for Fireman Sam!
Get Out Stay Out
Video
Ad blocker interference detected!
Wikia is a free-to-use site that makes money from advertising. We have a modified experience for viewers using ad blockers

Wikia is not accessible if you've made further modifications. Remove the custom ad blocker rule(s) and the page will load as expected.