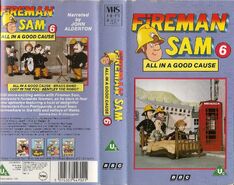 Fireman Sam 6 - All in a Good Cause is a UK VHS release featuring four episodes narrated by John Alderton. It was released on 4 March 1991 by BBC Enterprises.
Episodes
Trivia
This was the last VHS to use the 1988 BBC Video Logo.
Goofs
The copyright is missing from each episode.
Gallery
Ad blocker interference detected!
Wikia is a free-to-use site that makes money from advertising. We have a modified experience for viewers using ad blockers

Wikia is not accessible if you've made further modifications. Remove the custom ad blocker rule(s) and the page will load as expected.