The
Inflatable rescue path
is a piece of equipment used in rescues.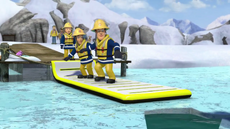 Bio
Sam and Elvis had gone to HQ in Newtown for winter training after they had returned the equipment they had trained with and been delivered to the fire station including a orange bag which when Sarah and James were stuck on a frozen lake came in use.
Appearences
Trivia
An inflatable path known as a pontoon, which was similar to this one also appeared in the fifth season episode, High Jinx, where it was used to rescue Norman from drowning in the lake.  
Gallery
Ad blocker interference detected!
Wikia is a free-to-use site that makes money from advertising. We have a modified experience for viewers using ad blockers

Wikia is not accessible if you've made further modifications. Remove the custom ad blocker rule(s) and the page will load as expected.