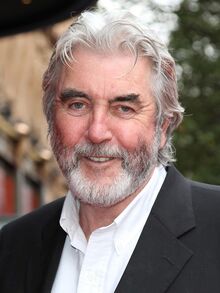 John Alderton (born in Gainsborough, Lincolnshire, England, UK, November 27th, 1940) is an English actor who was the narrator and vocalist of the first four series of Fireman Sam.
He is best known for his roles in Upstairs, Downstairs, Thomas & Sarah and Please Sir!. Alderton has often starred alongside his wife, Pauline Collins; In the 1980's, they both co-narrated for the "Little Miss" series.
Ad blocker interference detected!
Wikia is a free-to-use site that makes money from advertising. We have a modified experience for viewers using ad blockers

Wikia is not accessible if you've made further modifications. Remove the custom ad blocker rule(s) and the page will load as expected.