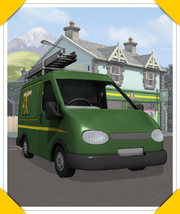 Mike Flood drives a van to get to his jobs in Pontypandy.
Description
With accident-prone Mike behind the wheel, he's not afraid of getting into scrapes involving his van and needs rescuing from it time and time again. Appearing since series 6.
It is an common sight on the streets of Pontypandy.
Basis
Mike's van slightly resembles a MK3 Ford Transit and an Iveco Daily van.
Gallery
Ad blocker interference detected!
Wikia is a free-to-use site that makes money from advertising. We have a modified experience for viewers using ad blockers

Wikia is not accessible if you've made further modifications. Remove the custom ad blocker rule(s) and the page will load as expected.