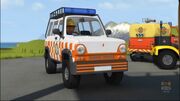 The
Mountain Rescue Ambulance
is a 4x4 emergency vehicle.
Description
It is based off Tom's & Lizzie's Jeep but a bit longer with the Mountain Rescue livery on it. It is driven by Helen Flood and was introduced in the Fireman Sam special Alien Alert.
Episodes Ellie drove the Mountain Rescue Ambulance
Gallery
Ad blocker interference detected!
Wikia is a free-to-use site that makes money from advertising. We have a modified experience for viewers using ad blockers

Wikia is not accessible if you've made further modifications. Remove the custom ad blocker rule(s) and the page will load as expected.