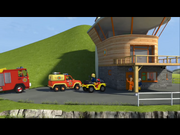 The Mountain Rescue Centre is owned by Tom Thomas.
Description
This search and rescue base is situated in the valley near the Pontypandy mountain range. Originally, it was a small, log building surrounded by railings. It had a balcony with a windsock and a helipad for Wallaby 1, the mountain rescue helicopter. It had a satellite dish on the roof and a small tree out the back. This is the place of work for Tom Thomas and also the place he lives. In Alien Alert, it was completely renewed just like Pontypandy Fire Station and the Boat House.
Personnel
Vehicles
Ground Floor
The ground floor is the recreational area. It has bookcases, a sofa, a television and a computer.
1st Floor
This floor is the main control room, it has two sofas, a table with four chairs and a Map-screen 700 system.
2nd Floor
This floor is similar to the Ocean Rescue Centre's office. The office has large panoramic windows for excellent views. A desk is near the chair with a computer and a phone.
Helipad Level
The Helipad level is where Wallaby 2 is stationed between emergency call outs.
Gallery