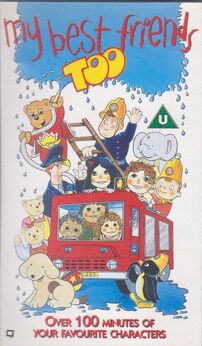 My Best Friends Too is a compilation video containing various children's programmes.
Episodes
Old Bear: Little Bear's Big Race
Fireman Sam: Lost in the Fog
Tots TV: Hedgehog
Pingu: Pingu the Icicle Musician
Bump: Bump and the Talking Tree
Teddy Trucks: Rosie's Day Out
Noddy: Noddy's New Friend
Superted: Superted's Dream
Rosie and Jim: Painting
Spot: Spot Goes to the Fair
Postman Pat: Postman Pat's Rainy Day
Ad blocker interference detected!
Wikia is a free-to-use site that makes money from advertising. We have a modified experience for viewers using ad blockers

Wikia is not accessible if you've made further modifications. Remove the custom ad blocker rule(s) and the page will load as expected.