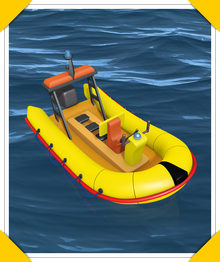 Neptune is the rigid inflatable rescue boat.
Description
It is powerful enough to tow a fishing trawler & sailing boat/skiff. This vehicle is mostly driven by either Penny Morris or Fireman Sam often accompanied by Elvis Cridlington. It was the only vehicle used for ocean-based rescues, until it was joined by Titan and Juno in Series 9.
Also in series 9 Whale Watch Neptune had minimal upgrades which include a siren and a sonar which locates objects on a screen. Neptune first appeared in the beginning of Series 6.
Neptune was formerly housed in a boathouse and is now housed in the Ocean Rescue Centre.
Appearances
Episodes Sam drove Neptune
Episodes Ben drove Neptune
Episodes Elvis drove Neptune
Gallery
Ad blocker interference detected!
Wikia is a free-to-use site that makes money from advertising. We have a modified experience for viewers using ad blockers

Wikia is not accessible if you've made further modifications. Remove the custom ad blocker rule(s) and the page will load as expected.