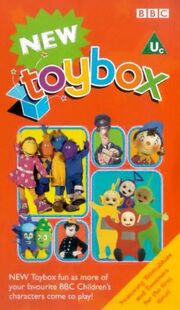 New Toybox
 is video compilation containing various children's programmes from the BBC. It was released on August 13th, 2001.
Episodes
Tweenies: Tweenies Have Fun with Dot-to-Dots
Postman Pat: Postman Pat has the Best Village
Teletubbies: Happy Days
Fireman Sam: Quarry Rescue
Yoho Ahoy: Chairs with Grog
Noddy: Noddy and the Driving Lesson
Ad blocker interference detected!
Wikia is a free-to-use site that makes money from advertising. We have a modified experience for viewers using ad blockers

Wikia is not accessible if you've made further modifications. Remove the custom ad blocker rule(s) and the page will load as expected.