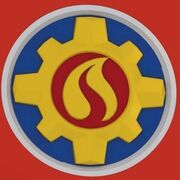 The
Pontypandy Fire Service
is a small Fire & Rescue service based within the valleys of South Wales. There are only two known stations: Firstly, 
Pontypandy
: a medium-sized station serving the south half of the area which covers the coastal fishing village of Pontypandy and the surrounding forestry and countryside. Due to its location, Pontypandy hosts three other emergency services that are combined with the fire station as they are called out to incidents together oftenly or if there needed. They are:
Ocean Rescue
,
Mountain Rescue
 &
Paramedics
.
Secondly, Newtown: a large station that covers the northern area which covers the town of Newtown. Newtown Fire Station also serves as the service's base of operations and it often referred to as HQ.
Uniforms
Stations
As from Season 10 onwards, the Mountain and Ocean Rescue Centres are part of the fire service each with their unique fire service logo.
Vehicles
Pontypandy Fire Station
Newtown Fire Station
Rapid Response Fire Unit - (Fire Engine)
Mobile Control Unit (Command unit for large incidents)
Venus (Originally) (rescue tender)
Pontypandy Mountain Rescue Centre
Wallaby 1 & 2 (Search and Rescue Helicopters) - Piloted by Tom Thomas
Mountain Rescue 4x4 (Off-road rescue 4x4) - Driven by Tom Thomas
Mountain Rescue Ambulance (Off-road rescue 4x4) - Driven by Nurse Flood & Ellie Phillips
Pontypandy Ocean Rescue Centre
Neptune (Inflatable rescue boat) - Driven by Penny Morris, Fireman Sam, Ben Hooper & Elvis Cridlington
Titan (Firefighting Boat) - Driven by Ben Hooper
Juno (Rescue Jet Ski) - Driven by Fireman Sam
Railway Rescues
Bessie (Heritage Fire Engine) - Driven by Station Officer Steele, Fireman Sam & Penny Morris
Paramedics
Nurse Flood's Car (Ambulance) - Driven by Nurse Flood
Mountain Rescue Ambulance - Driven by Nurse Flood & Ellie Phillips
Pontypandy Firefighters
Other emergency services
Newtown Firefighters
Mountain Rescuers
Pontypandy Coastguards
Nurse
Rescue Dog
Gallery
Ad blocker interference detected!
Wikia is a free-to-use site that makes money from advertising. We have a modified experience for viewers using ad blockers

Wikia is not accessible if you've made further modifications. Remove the custom ad blocker rule(s) and the page will load as expected.