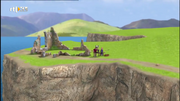 The Pontypandy Ruins
are on a cliff along the
Pontypandy
coast.

The ruins are a popular landmark for the Pontypandy locals, Once during a heatwave Joe and Hannah spent a picnic at the ruins later Trevor had brought the Mandy, James Sarah, Norman and Dilly's to also have a barbecue there too however a glass bottle started a grass fire.
Gallery
Ad blocker interference detected!
Wikia is a free-to-use site that makes money from advertising. We have a modified experience for viewers using ad blockers

Wikia is not accessible if you've made further modifications. Remove the custom ad blocker rule(s) and the page will load as expected.