Fireman Sam "Race Against Time" was a DVD which was released on the 26th September 2016 in the UK .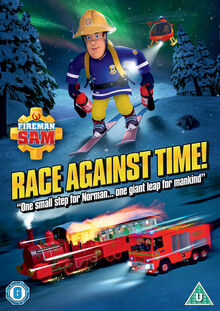 Episodes
Junior Cadets (Only on DVD)
Trivia
Junior Cadets was released in segments between the episodes changing.
Goofs
On the back description it says "while preparing Bessie" it really is The Pontypandy Flyer.
Ad blocker interference detected!
Wikia is a free-to-use site that makes money from advertising. We have a modified experience for viewers using ad blockers

Wikia is not accessible if you've made further modifications. Remove the custom ad blocker rule(s) and the page will load as expected.