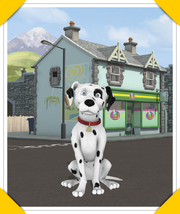 Radar
is the
Pontypandy 
Fire Dog. He is a Dalmatian, which is a popular breed of dog for fire stations. Radar has been trained as a rescue dog and is very brave, loyal and loveable. Radar's keen sense of smell and sensitive hearing are often a real help to the team - even he does need to be rescued himself from time to time.
Appearances
Gallery
Ad blocker interference detected!
Wikia is a free-to-use site that makes money from advertising. We have a modified experience for viewers using ad blockers

Wikia is not accessible if you've made further modifications. Remove the custom ad blocker rule(s) and the page will load as expected.