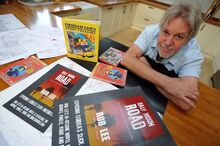 Rob Lee is a Writter and Artist who works on Childrens Shows such as Joshua Jones and The Shoe People.He was the writter and creator the characters from the Original Fireman Sam. He also writes books and concept art.
Gallery
Ad blocker interference detected!
Wikia is a free-to-use site that makes money from advertising. We have a modified experience for viewers using ad blockers

Wikia is not accessible if you've made further modifications. Remove the custom ad blocker rule(s) and the page will load as expected.