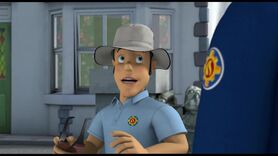 Shape up and Shine
is the 13th episode of
Season 10
. It is written by
Lee Pressman
.
Plot
While Sam helps Trevor teach the Pontypandy Pioneers about woodland fire safety, Chief Fire Officer Boyce tries to put the other firefighters through a faulty exercise routine he planned. But when they get injured as a result, only he, Sam and Station Officer Steele are left to deal with a woodland fire.
Characters
Vehicles
Trivia
Goofs
A white square can be seen on Jupiter's door when it is exiting the station.
Gallery
Ad blocker interference detected!
Wikia is a free-to-use site that makes money from advertising. We have a modified experience for viewers using ad blockers

Wikia is not accessible if you've made further modifications. Remove the custom ad blocker rule(s) and the page will load as expected.