Spy Games is the 7th episode of Series 10. It is written by Tim Bain.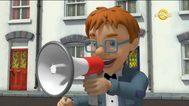 Plot
Norman is making a spy movie. However he makes James do all the stunts which puts him in danger including getting trapped in a garage fire.
Characters
Vehicles
Trivia
References to James Bond and spy movies in general are made throughout the episode.
Sarah and Mandy make a reference to Lights, Camera, Avalanche!, the last time they filmed a movie with Norman and ended up in danger.
When the emergency comes through at the fire station, the end of Sam's Birthday can be seen on the television screen.
Gallery
Ad blocker interference detected!
Wikia is a free-to-use site that makes money from advertising. We have a modified experience for viewers using ad blockers

Wikia is not accessible if you've made further modifications. Remove the custom ad blocker rule(s) and the page will load as expected.