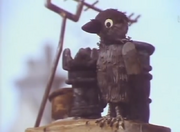 Jackdaw is a bird which appears in an episode Thief in Pontypandy.
Description
The Jackdaw was responsible for stealing many shiny items in Pontypandy, which includes: Sam's watch, Station Officer Steele's Medal, Bella's necklace, and Dilys' earrings. When Bella's Cafe's chimney on fire, Sam and his crew arrived and put out the fire, where they later realised the chimney was blocked! Sam went up the roof to investigate the chimney where he founds a problem, he contacted Station Officer Steele through a radio where he said the chimney needs a good shove. As soon as Elvis clears the blockage out of the chimney, the blockage turns out to be a bird nest. The jackdaw suddenly appears out of nowhere cawing and flew past Sam, landing at another chimney nearby. She kepts on cawing as she watches Sam holding her nest full of stolen shiny items.
Appearances
Ad blocker interference detected!
Wikia is a free-to-use site that makes money from advertising. We have a modified experience for viewers using ad blockers

Wikia is not accessible if you've made further modifications. Remove the custom ad blocker rule(s) and the page will load as expected.