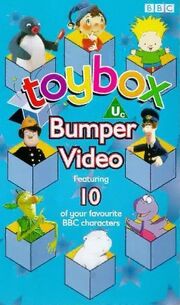 Toybox Bumper Video
 is a video compilation containing various children's programmes from the BBC. It was released on October 1st, 1999.
Episodes
Noddy: Noddy and the Special Key
William's Wish Wellingtons: William and the Pirate's Wreck
Oakie Doke: Oakie Doke and the Lonely Mouse
Pingu: Pingu's Curling Game
Fireman Sam: Spot of Bother
Spider: Spider in my Tent
Little Bear: Duck, Babysitter
Dinobabies: The Cloneheads
The Little Polar Bear: The Flower
Postman Pat: Pat's Thirsty Day
Ad blocker interference detected!
Wikia is a free-to-use site that makes money from advertising. We have a modified experience for viewers using ad blockers

Wikia is not accessible if you've made further modifications. Remove the custom ad blocker rule(s) and the page will load as expected.