The Bus
is owned by
Trevor Evans
who drives it.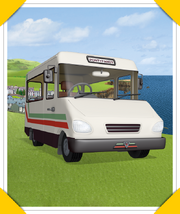 Description
Serving the route between Pontypandy and Newtown, Trevor Evan's bus is a local lifeline. Operating the school run and day trips for the village children is one of its vital jobs. Although not always a reliable timekeeper, Trevor and his bus are popular elements of village life. There is a ramp kept on the bus for wheelchair access and there used to be a Sat nav.
Basis
The bus was based on the Sherpa Dormobile in the original series.
Trivia
Like Jupiter and Venus in the old series, the bus originally had a numberplate (reg: BWS 493T). However since Series 5, its registration plates have been removed.
In Heroes of the Storm, Trevor's bus fell off a cliff, but by the end he gets a new one (still the same bodywork) which includes, completely redesigned dashboard, different wheelrims and pink seats.
Gallery
Ad blocker interference detected!
Wikia is a free-to-use site that makes money from advertising. We have a modified experience for viewers using ad blockers

Wikia is not accessible if you've made further modifications. Remove the custom ad blocker rule(s) and the page will load as expected.