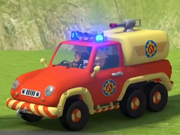 Venus
is the rescue tender of the
Pontypandy Fire Station.
Description
Driven mainly by Penny Morris, Venus the red rescue tender is always available to assist the team. No job is too large or too small. Carrying all the specialist gear the team could possibly need, Venus is an invaluable addition to the team.
Episodes Sam drove Venus
Episodes Station Officer Steele drove Venus
Episodes Elvis drove Venus
Episodes Ellie drove Venus
Episodes Arnold drove Venus
Trivia
Gallery
Ad blocker interference detected!
Wikia is a free-to-use site that makes money from advertising. We have a modified experience for viewers using ad blockers

Wikia is not accessible if you've made further modifications. Remove the custom ad blocker rule(s) and the page will load as expected.