The Wholefish Cafe
is a cafe that is run by
Charlie
and
Bronwyn Jones
. It appeared in the CGI series of Fireman Sam.
The Cafe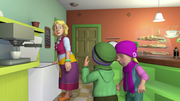 The Wholefish cafe which is located on the Pontypandy harbor sells a variety of refreshments, fish and chips. Charlie who is a fishermen catches fresh fish daily on his boat and is prepared by Bronwyn who also stands at the service counter where there is the deep fryer which cooks the meals to be sold.
The cafe has tables, chairs and a television for entertainment.
The Loft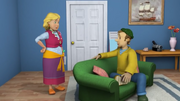 The Jones family live in a loft above the cafe there is a living room, kitchen and bedrooms.

This is where Charile, Bronwyn, Sarah and James live.
The Basement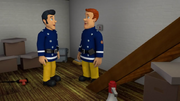 Under the cafe is the basement where food is stocked and there is a refrigerator, water heater and a fuse box.
Gallery