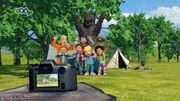 Wicker Bear is the 15th episode of Series 10. It is written by Adam Long.
Plot
Tom and Moose are making a Wicker Bear to try and beat the world record of the largest wicker bear held by the wild men of Newtown. But when it comes to take a group photo with the Pontypandy Pioneers (excluding James who has a cold), their creation falls onto a campfire which causes a huge forest fire.
Characters
Vehicles
Trivia
This is the second episode in the CGI series where Sam is wearing casual clothing.
Goofs
At one point Sarah refers to Sam as 'Fireman Sam' instead of 'Uncle Sam'.
Gallery
Ad blocker interference detected!
Wikia is a free-to-use site that makes money from advertising. We have a modified experience for viewers using ad blockers

Wikia is not accessible if you've made further modifications. Remove the custom ad blocker rule(s) and the page will load as expected.